The care and attention your dog needs
Each of our five stations is custom-built to provide the best experience - easy canine entrance and exit, no bending down, and no bad back - just safe, quality time with your dog.
We've designed our Dog Wash for cleanliness and reduced noise; you'll love to spend time there.
Finally, a full range of grooming brushes and combs are available for the finished look you desire
When you're done, just leave the mess to us!
.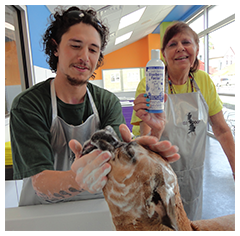 We use only the best products
We use only the highest quality shampoos and conditioners from Isle of Dogs, a Wisconsin company providing top of the line products to dog show enthusiasts!
We start each bath with a complimentary aromatherapeutic, natural and tearless South Bark Blueberry Facial - calming, brightening and cleansing.